My First Photography Exhibition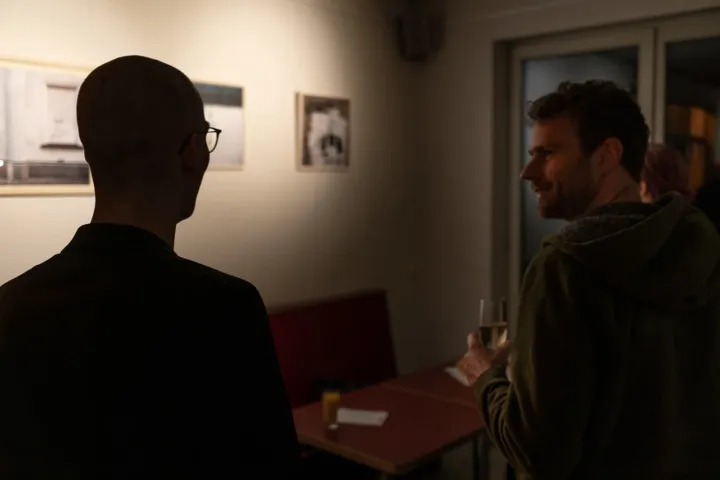 Friday, October 11th, it was about time. The long-term planning and a rather short-term realization culminated in the vernissage of my first exhibition at Café Koeppen. 🤗
Considering that I ordered the photos only a week before the exhibition, I was glad when they arrived on time and undamaged. Since printing on photo paper would have been too expensive for me, I simply had them printed as posters. Once 20 × 30 cm, four times 40 × 40 cm and five times 50 × 70 cm.
During the days before the opening, I acted hectic and agitated. After all, there were many posters hanging in town and friends were invited, so I hoped everything would go smoothly. As a result, I was able to be more relaxed when all the photos were hanging on the walls the day before the opening. Things took longer than I thought — I had to clean the frames, place the photos in the middle and find a suitable arrangement in the room. (I hadn't thought about which picture should hang on which wall before). More than three hours was needed for that.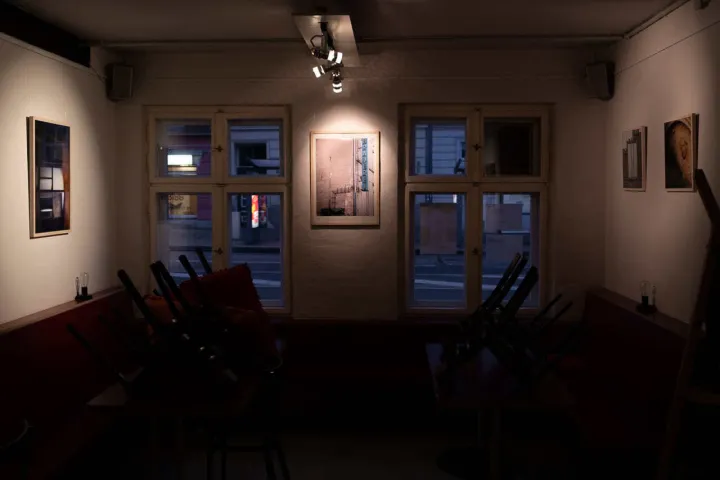 On the same evening as on the day of the exhibition, I baked and made spreads because I wanted to offer a small buffet for the vernissage. My girlfriend helped me a lot - her ideas like the chocolate-coated fruit skewers were a treat for everyone. 😋
At 3 p.m. on the opening day, I hurried away from work and prepared everything else at home until I brought the buffet parts shortly after 6 p.m. to Café Koeppen. Time ran out. Fortunately, a friend spontaneously offered her help in coating the canapés and arranging the buffet.
Even though everything went well until then, I was quite excited at this time, as I still had to give the opening speech...
Around 7.30 p.m. familiar and unknown faces trundled in and ten minutes later I opened the exhibition. While I was talking, the tension also eased, so that I began to rejoice in the presence of each and every one of them. I was able to tell with corresponding joy.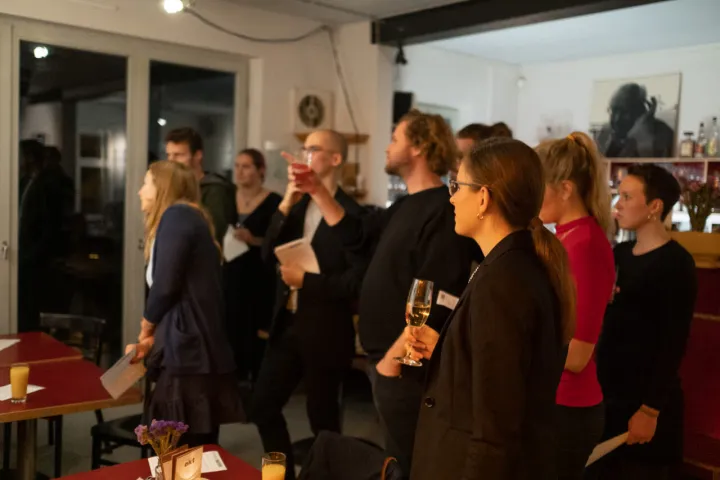 The photographs on display I have already seen so often that I can no longer enjoy their aesthetics. Therefore it was a pleasure to be able to present them to new eyes in order to catch new opinions/critics. It euphorically invited me to feel and hear the joy of others at the sight of the pictures. The feedback made me happy. And there were even some discussions about a few motives, which I would never have dreamed of!
Now the photos are hanging in the café until the end of December and I hope that other people will enjoy them as well.
Photographs of the local city taken in the last seven years. During a walk at the beginning of the year, I noticed that most of the motifs can no longer be reproduced: Either the photo was captured in an inimitable moment on digital celluloid or the photographed object was changed, renovated or torn down.
In the exhibition, I show a town on a small scale, an unseen Greifswald, so to speak. And I'm trying to spark a kind of search game that invites the viewer to find out where which motif was captured photographically.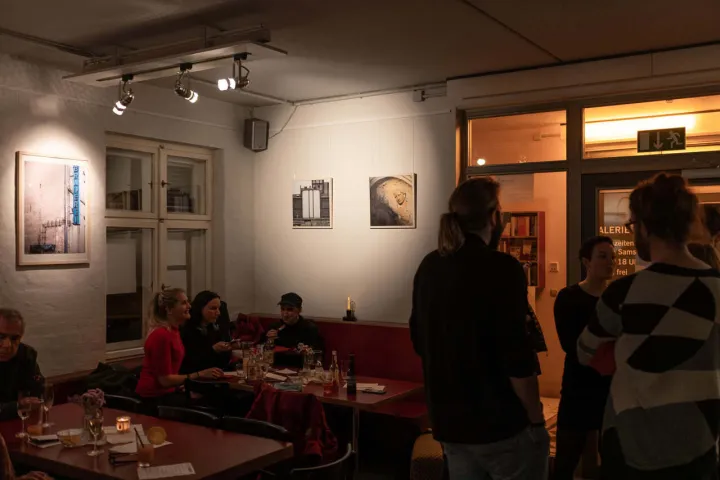 Right before the beginning of my studies I bought my first camera (an Olympus OM-D E-M5 to be more precise) and tried my hand at photography while studying pharmacy. The first object that came up was the city. So from the end of 2012, the photos were taken, which can be found in the exhibition.
Even if there was a will there in principle, until two years ago I lacked the self-confidence to consider my photos as qualitatively high enough to show them in an exhibition. It was not until I embarked on my new life as a designer/developer that I experienced myself anew and actively worked on taking my dreams into my own hands.
Since my original wish (which was surpassed by the job offer at Katapult magazine) was to leave town next year, I thought that exhibiting a retrospective portrait captured through my eyes would be a beautiful end to my time in Greifswald.
I also felt that my photos would simply fit into Café Koeppen. In short, I asked for it and got the approval a short time later. The owner was delighted with the photos!
If it's 2019 while you're reading this, feel free to drop by:
Café Koeppen
Bahnhofsstraße 4/5
17489 Greifswald
Any visitor is most welcome. 🙂
I would like to thank everyone who actively supported me in the planning and realisation of the exhibition: my girlfriend, my friends and Christiane Waak, who offered me to exhibit my photos in her café.
---
Too lazy to add a comment section…
Was this article worth your time? Feel free to let me know if you spot a typo or just write me what you think.
Fin.